Hit & Run
(2012)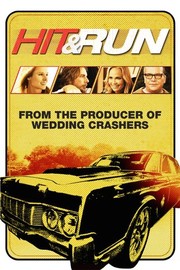 TOMATOMETER
AUDIENCE SCORE
Critic Consensus: Though Hit & Run has some surprisingly oft-kilter filmmaking, the action doesn't add to much and the writing's a bit smug.
Tickets & Showtimes
Hit & Run Trailers & Photos
Movie Info
Hit and Run is a comedy about a young couple (Kristen Bell and Dax Shepard) that risks it all when they leave their small town life and embark on a road trip that may lead them towards the opportunity of a lifetime. Their fast-paced road trip grows awkwardly complicated and hilarious when they are chased by a friend from the past (Bradley Cooper), a federal marshal (Tom Arnold) and a band of misfits. -- (C) Open Road
more
Cast
News & Interviews for Hit & Run
Critic Reviews for Hit & Run
Audience Reviews for Hit & Run
Bathsheba Monk
Super Reviewer
Alex Dimitri: Hey, hey, Clint? Why don't you think of this gun as a microphone? When it's not in your hand, you shut the fuck up. Okay?

"A Comedy That Never Takes Its Foot Off The Gas"

Hit & Run was somewhat of a surprise to me. When you see a movie that has Dax Shepherd not only in the leading role, but also directing and writing; it's hard to expect anything better than terrible. Surprisingly though, Dax wasn't too bad in front of the camera or behind it. The movie is nothing to get too excited about, but it's also a pretty good amount of fun and it's helped by a pretty good little supporting cast including: Kristen Bell, Tom Arnold, and Bradley Cooper. 

Charlie Bronson is under witness protection. Four years ago he testified against his then friends and bank robbers, whom Yul(Charlie's original name) drove the getaway car for. When his girlfriend gets a job offer in his old home town of Los Angeles, Charlie decides to go with her. Anne's former boyfriend begins tailing them and calls up Alex(one of the people Charlie testified against) to let him know that he knows where Yul is. Also on the path of Charlie is a US Marshall who is supposed to be making sure that Charlie is all right. 

It would be fair to call Hit & Run just another action comedy, which it basically is; but there's also a rom-com formula at play here too. It's sort of a cross between an action comedy, a road movie, and a romance film. Crossing those genres doesn't really bring out too much originality though, but it does make the film more interesting. 

Hit & Run ended up being a fun ride, and in the end, that's all it really needed to do. This isn't a movie that you'll find a lot of purpose in watching, but it is a nice little hour and a half diversion. Also, if you're like me, the only excuse you need for giving this a try is that Bradley Cooper is in it; and with dreads no less.
Melvin White
Super Reviewer
MisterYoda ?
Super Reviewer
Hit & Run Quotes
Alex Dmitri: Are you happy now you know what part of the world my ass has been to?
Charlie Bronson: Close ur eyes and take three deep breaths... This is the only moment you need to worry about. No yesterday. No tomorrow. Just right now. You're not late for anything. You aren't going to miss anything. You're exactly where you're supposed to be & you're exactly who you're supposed to be. You're absolutely perfect & whatever happens today is exactly whats supposed to happen & if you want, I'll spend every moment with you for the rest of your life.
Annie: You're a bank robber?
Charlie Bronson: I did the getaway driver part.
Clint Perkins: What? You didn't like the gym equipment?
Discussion Forum
Discuss Hit & Run on our Movie forum!
News & Features